This work was done during my first year at the Art Academy. It came out of my frustration of lack of community at the school, as well as the contempt expressed by my teachers for the local community as art consumers and/or producers. It taught me a lot about navigating my role as an artist and my role as a student and citizen.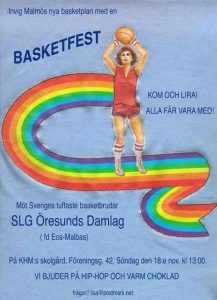 "In May 2001 I decided to do something about our school yard. It was just
a square of grey pavement and not really used in any way. This was in the
context of our annually student exhibition, so my first thought was to paint
it.
The school yard doesn't belong to our school, but to Malmö city, so I got
their permission and even got to borrow a little cart called "Easy Liner"
to paint with. Since this was art, the school paid for the paint.
At first I painted a basketball court, then a bandy court for the kids who
plays inline-bandy there at night, and a volleyball court just for the looks
of it (like a gymnasium floor).
When the paint had dried the bandy court came in immediate use.
After the summer I contacted Malmö city and told them that we hade a basketball court
in our school yard, but no boards or loops. The man I spoke to was somewhat
surprised, but agreed that we couldn't have a basket court without baskets,
and he promised to take care of it.
I didn´t tell him that I had painted the court myself.
It took maybe a month before anything happened, but one day when I came to
school there were too holes in the ground, and a few weeks later the boards
and hoops where in place.
To initiate the new court I arranged a basketball party. I invited SLG Öresund
Women's Team, put up posters at the schools in the area, borrowed music equipment
and offered hip-hop, hot chocolate and lemonade. It became a very nice party,
with intense playing until the sun went down.
The basketball court is now used every day by people living in the area."