Sept 28 – October 11, 2020
Den uvidende lærer Kapitel II: The Sling
at Kunsthal Aarhus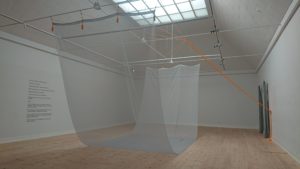 The Sling is a space of study held by its participants. It is a curved space, a holding space, a carrying space. A sling to hold and support what might otherwise break. It is a simple support structure of rope and fabric that is held in suspension by the hand of one to eight people. Entering the space is taking the risk that it might all fall down. At any moment we can let it go, release the tension, undo the curve. We will have to agree on how to hold space for each other.
The Sling is mainly meant to be used for critique classes. This is one of the essential elements of arts education. This is where we share our work with each other and subject our doing to judgement. It is where we learn how to talk about art, how to analyse it, fight for it, understand it through the eyes and ears of others. It is a tense and vulnerable space. It is also an arena where many of the struggles for the definition of what art is, and can be, plays out; for the right to artistic freedom, for complex and nuanced work, for work that holds resistance and opacity, for experimentation and failure.
In the spirit of Jacques Rancière we will become each other's ignorant schoolmasters. We will "… instruct the learned one as well as the ignorant one: by verifying that he is always searching. Whoever looks always finds. He doesn't necessarily find what he was looking for, and even less what he was supposed to find. But he finds something new to relate to the thing that he already knows." With the Sling I make an argument for the suspension of judgement as a fundamental pedagogical effort. The process of understanding artistic work comes to a halt the moment we judge, it marks the beginning of the end of the conversation. So it is important that we extend that period of time and expand that space as much as possible. That we hold the suspension. The many ways to do this will be explored during the exhibition with a group of local artists and art students.