Malmö Free University for Women (MFK) was a participatory art project and a feminist organization for critical knowledge production. We aimed to raise and discuss contemporary political issues by bringing together experience and knowledge from various fields. Through experimental, radical pedagogical methods we hoped to bridge theory and practice and challenge dominating norms and power structures. Our work took the form of reading groups, workshops, lectures and screenings. MFK was started in 2006 in Malmö. It was run by artists Lisa Nyberg, Johanna Gustavsson and more or less temporary collaborators from various backgrounds. MFK came to an end in May 2011.
From our experiences we co-wrote the book Do the Right Thing – a manual from MFK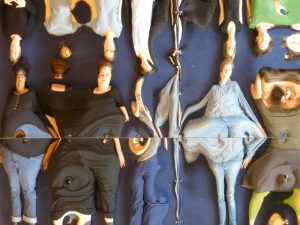 Insisting to be part of this moment/movement Konsthall C, Stockholm 2011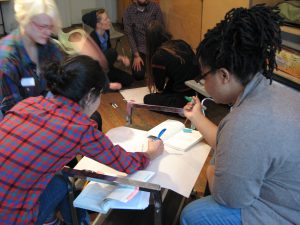 We Won! Staging a feminist utopia, 16Beaver group, New York 2009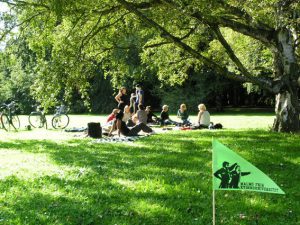 Pic-nic poetry in the park, Malmö 2006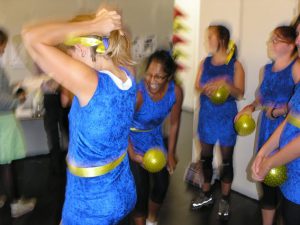 Start up meeting, Girls with Balls performing, Signal Gallery, Malmö 2006
We arranged hundereds of workshops and lectures together with others (selected)
Experimental radio with Åsa Ståhl and Kristina Lindström, On intersectionality with Diana Mulinari and Kerstin Sandell, the seminar Culture, Labour and Neo-liberalism, How Do We Respond? Together with artist Kirsten Forkert, Who is friends with Paolo Freire? A conversation with artist Jeuno Kim, Feminist knowledge theory with Ylva Gislén, the Breakfast Club: alternative living with an anarchist perspective with Kajsa Viklund, Non-heteronormativ couples dancing with Klara Karnerud, Molly Ränge, Liv Hellström and Iasmina Munteanu.
Courses, workshops and lectures (selected)
Just Say No! workshop, Iaspis, Stockholm 2011
We Won! Staging a feminist utopia, 16Beaver group, New York 2009
Do the Right Thing, workshop, wip:konsthall, Stockholm 2009
Welcome to the Tyranny of Structurelessness discussion, Iaspis, Stockholm and ABF, Malmö 2008
Essensially Experimental? lecture, Valand Shool of Art, Gothenburg University 2008
Feminism and the Future, workshop, Signal – center for contemporary art, Malmö 2008
Intersectionality in Artistic Practise 7,5 hp, course at the School of Photography, Gothenburg
A Day on Intersectionality workshop, Konstfack, Stockholm 2009 and 2011
Self-organizing as Artistic Strategy course, Det Jyske Kunsakademi, Århus, Denmark and Nordiska konstskolan, Karleby, Finland
Exhibitions
Insisting to be part of this movement/moment (convinced of our greatness), Konsthall C, Stockholm 2011
Manufacturing Today, Trondheim Art Biennal, 2011
Manipulation, curated exhibition, Signal – center for contemporary art, Malmö 2009 
Art after education, Röda Sten, Gothenburg 2008
Radical Software, Den frie Udstillingsbygning, Copenhagen 2008
Other:Do the Right Thing – a manual from MFK, book published 2001
Research Center for Sustainability Practices written proposal for an artist research center on commission from Tromsö Art Academy, together with Kuratorisk Aktion, 2008
Intersectionality as a theoretical tool to formulate critical knowledge production and strategic separatism as a way to practise intersectionality. An argument from Malmö Free University for Women paper presented at the symposium Essentially Experimental?, Valand School of Art, Gothenburg 2008