Malmö Konstverkstad is a unique program that combines three days of study for higher education, adapted individually for each participants needs, with two days of art education with a special focus on socially engaged art and contemporary creative practises each week. The program is built on the interests of the students, treating everyone as an artist, and learning about art by doing as well as seeing art, meeting different art professionals, talking to artists and other creative change makers and understanding the context in which art is produced and presented. I am the head teacher and coordinator of the program, that was initiated by me and Folkrörelsernas Konstfrämjande, in collaboration with Malmö Folkhögskola and Malmö Konstmuseum.
The aim of this initiative is a more democratic art world, by giving access to art education for those groups in our society that is under-represented in our art institutions. Read more about the initiative here (Swedish)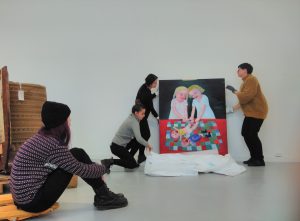 In February 2017 the participants of Malmö Konstverkstad compiled the exhibition The War with Myself, with works from the collection of Malmö Art Museum.
Follow us on Facebook!
Apply here.