One year has passed since I introduced this project, and now its finally coming to its glorius conclusion. "The War with Myself" is an exhibition by the participants of Malmö Konstverkstad, telling a story of our inner struggles with works from the collection of Malmö Art Museum. Among the participant artists we find Elin Behrens, Nathalie Djurberg, Sirous Namazi, Leif Holmstrand, Vassil Simitchiev, Annika von Hausswolff and more.

https://www.facebook.com/events/375605972795802/
The project is a collaboration between Malm
ö Art Museum
, Folkr
ö
relsernas Konstfr
ä
mjande and Malmö Folkhögskola, within the framework of Malmö Konstverkstad, a new general studies course with art as a special subject.
The students gets a back stage pass to the museum, and encounters the vast art collection and the various professionals that work with it.
The idea is to give the participants an insight to a context where art is produced, collected and shown, and the opportunity to express what they want to say with the exhibition as a tool.
.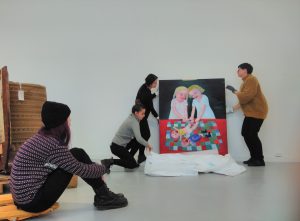 .
The exhibition was compiled by:
Sherin Alabtah, Sofia Brodén, Amanda Eklund, Sofi Hillblom, Anastasia Jarnum, Natassja Karipidou, Josefin Lister, Nicolas Lövgren, Sandra Malm, Viktor Mariedahl, Sami Nasufovski, Johan Nowen, Kim Poulsen, Drita Salja, Dzeneta Salja, Dunja Tolj, and Juulia Tuoma, under the guidance of Lisa Nyberg.
.
A review of the exhibition in Sydsvenskan can be downloaded
here
.
.